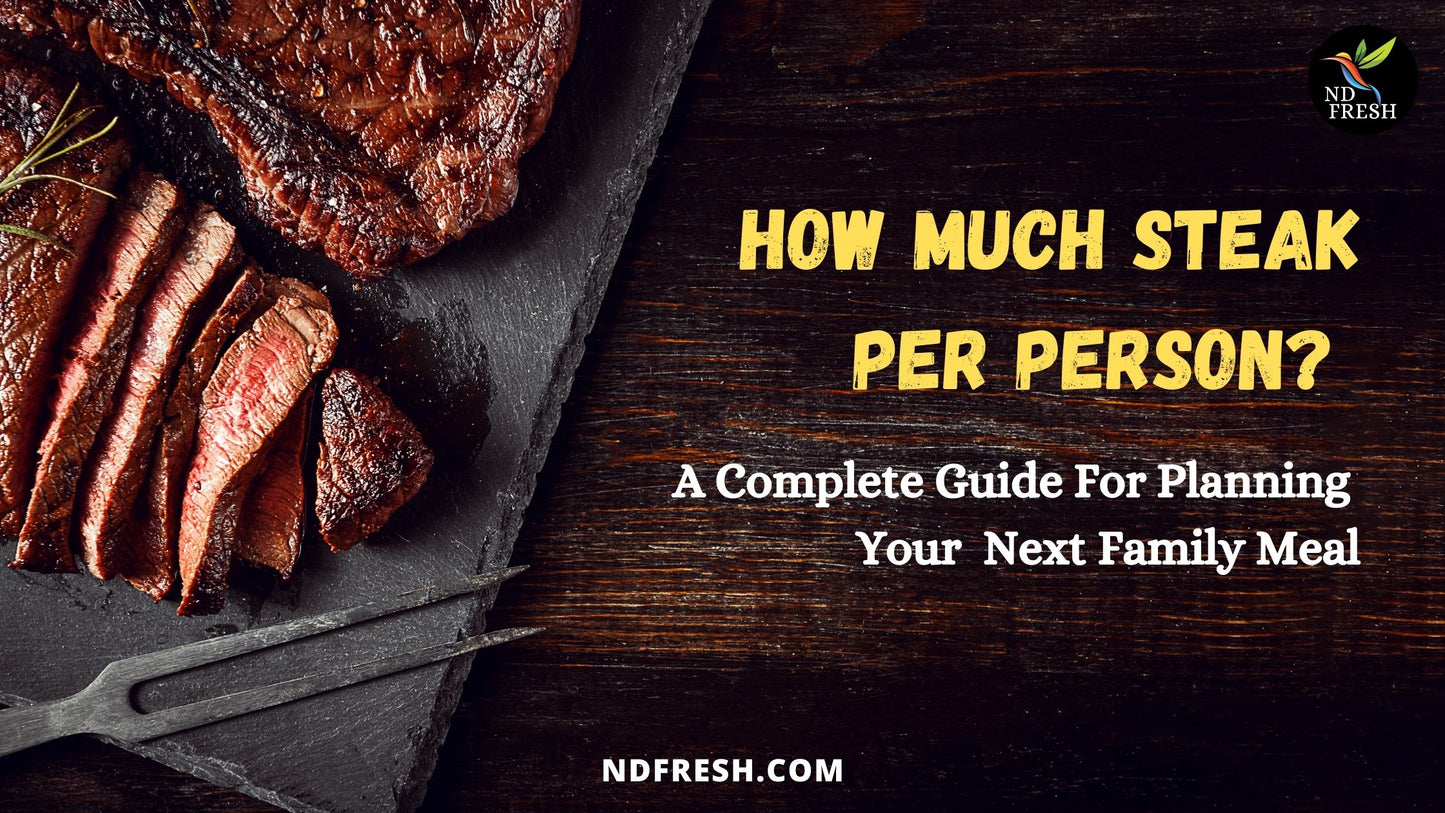 Are you tired of leftovers after every party or feast? Or sometimes not having enough for everyone? Then try this complete guide before your next party!!
Last Xmas my neighbor threw a party, where varieties of dishes were served and most of them are soo yummy and savory!! Yet a huge quantity of foods are leftover and wasted. I asked them why they prepared such a huge quantity, and they said; "we are always scared of not having enough food for all our guests".
The correct balance between 'satisfying the guest and wasting the food' is very hard to know and most of the time we waste food just because of this particular reason. If some side dishes like potatoes get one or two extra, it is not to worry but knowing the correct portion for food like steak is important!!
Before planning your next party try this complete guide for your meat and check out our online meat store ndfresh.com for premium and fresh meats at your fingertips to make your party yummier!!
Before planning your meal, first, ask certain questions to yourself;
1.Who will be your coming guest?
Each person has different carvings, some are heavy meat eaters, some are vegetarians, so before planning your meal you should count based on your guest's interest in food.
2.What kind of steak are you gonna prepare?
It's very important to know what kind of steak you're going to cook because some steaks like ribeye will get half the meat after cooking than before cooking, which means the amount of rib eye steak needed is different from the amount of flank steak. So, it's very important to know what kind of steak and how you're gonna cook them.
Want to know some pro tips to choose perfect meat? Read our article here
3.How do you wanna serve your steak?
It's totally up to you how you wanna serve your steak to your loving guest!
Whether you want to serve them a whole cut of steak, so if they may not like those steaks that piece will get leftover or you want to serve slices of steak as a starter which gives them more space to make their own choices of steak as much as they want.
4.Are you adding another protein?
It will be a great idea if you add another protein in your meal as another meat alternative. So, those who don't like steak can have their portion of protein too! But if you use this idea then you should cut down the amount of steak you're gonna cook.
5.Are you fine with leftovers?
You have to consider this question very well whether you are okay with having leftovers of steak which you can cook another day. You can try some supper recipes with leftover steak the next day but remember it is also important that you should store your leftover steak fresh and hygienically.
The great Golden rule
After considering all the above questions you should also look into the great golden rule which states half-pound( eight ounces) of meat per person is perfect for planning a meal and ¾ pound(12 ounces) of meat per person if you want leftovers.
Planning a meal or party is sometimes like a puzzle where you are stuck in between whether you can satisfy your guest or get left with lots of leftovers!!
Consider this question with a proper answer before you purchase your meat and try to minimize wasting your food and money!!
Try our exclusive
premium quality and 100% fresh cuts of halal steak and other meat and fish items from
ndfresh.com
to make this weekend party more yummy and healthy!! Free Home delivery across Toronto GTA