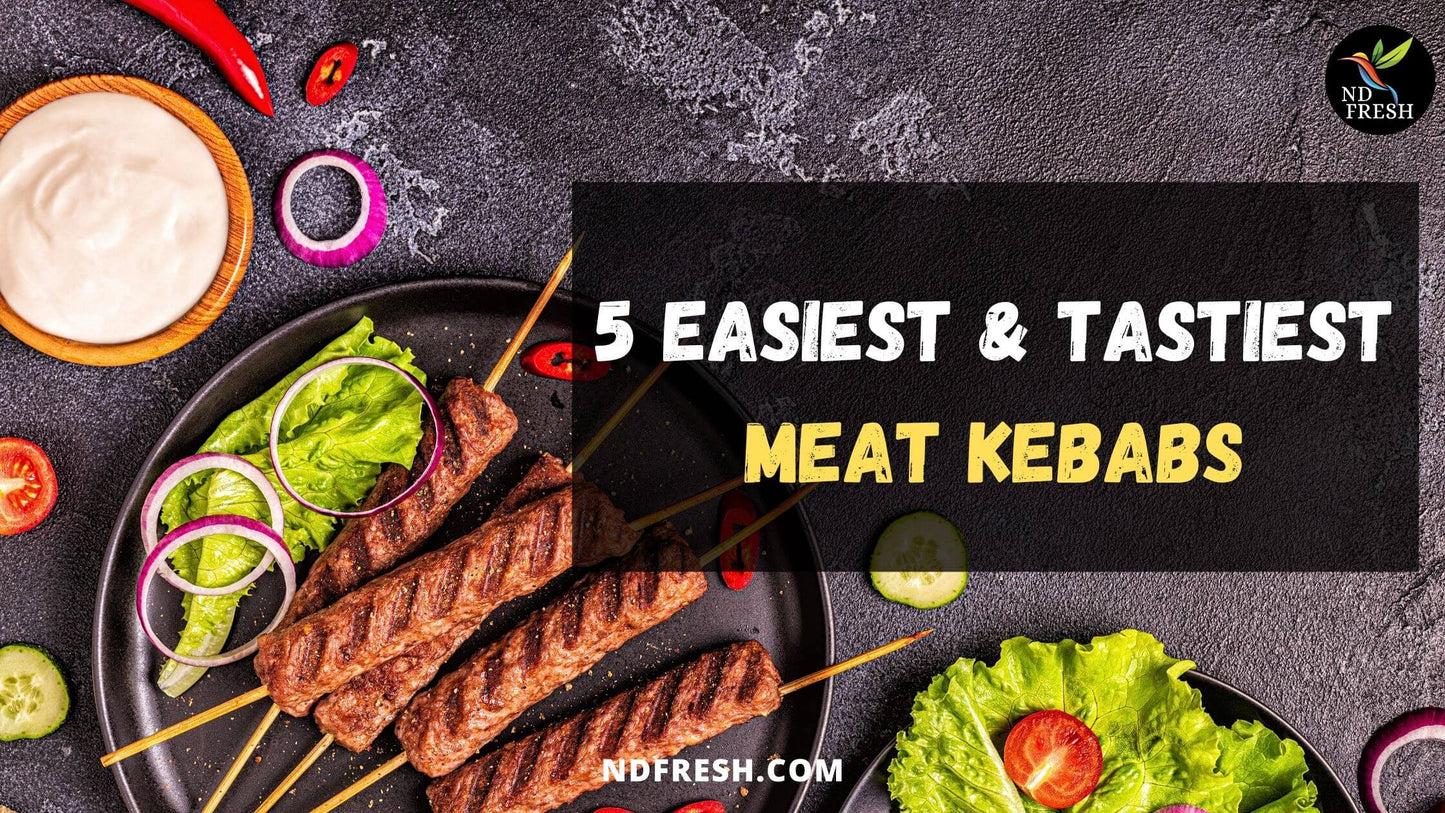 In Ramadan, you will be very concerned about what dish you should prepare for iftar. Are you looking for super tasty simple snacks? If yes, I will definitely recommend you to try these kebabs.
What Is Kebab?
Kebabs are any dish of meat, fish, or vegetables, which are grilled on a skewer or roasted using a rotisserie. Kebabs are traditionally made of lamb,but you can make it with any meat.
There are Innumerable delicious meaty kebab recipes out there. So to make your work easier, our expert team has created a curated list of 5 easiest and tastiest kebab recipes to try in this ramadan.
1. Turkish Chicken Kebab - in Air Fryer
2. Lamb Shish Kebab
3. Beef Kofta Kebab
4. Yogurt Marinated Lamb Kebab
5. Chicken Kebab - No Skewer
1.TURKISH CHICKEN KEBAB -IN AIR FRYER
Take a large bowl, add Greek yogurt,

garlic

,

tomato paste, lemon

juice, oil, salt,

cumin

,

paprika, cinnamon

,

black pepper

,

and cayenne pepper and stir together until the spices are well-blended into the yogurt.
Add the

chicken

pieces and mix until the chicken is well-coated with the marinade.

Marinate the chicken for 30 minutes or for up to 24 hours in the refrigerator. In an air fryer, place the chicken in a single layer after removing from the marinade.

Set the air fryer to 370ºF and cook the

chicken

for 10 minutes. After 10 minutes,open it and flip over the chicken.

Set the air fryer to 370ºF and cook the chicken for another 5 minutes. Then it is ready to serve..!!
2. LAMB SHISH KEBAB
Combine the marinade ingredients (olive oil, lemon juice, sea salt, cumin, grated ginger, and black pepper).
Place the

lamb

pieces with the marinade in a bag.

Massage them to mix and refrigerate the meat in the marinade for 2 to 24 hours.

Preheat the grill to high heat.

Thread lamb, onion, and pepper pieces onto skewers.

Place the kebabs on the hot grill and cook for about 8 to 10 minutes, uncovered.

Starting at the 2-minute mark, turn the skewers to cook another side of the cubes.

Do this every 2 minutes until all four sides of the cubes have been grilled. Cook longer if lamb chunks are larger than 1-inch.
remove the kebabs from the grill.Serve on or off of the skewers, with lemon and lime slices.
3.BEEF KOFTA KEBAB
Grate onion and squeeze it with your hands to get out as much liquid as possible.
Take

beef

,

garlic, salt, pepper, parsley, and your choice of spice mix in a bowl and add the squeezed onion.

Mix all ingredients together well, squeezing mixture to help break

beef

into smaller pieces.

If cooking in a pan or on a griddle, add a small amount of olive oil before cooking kebabs.

Form the meat into oval shapes that are about 3 inches long by 1 ½ inches wide.

These will grill up just fine.

Grill over medium-high heat, getting nice grill marks, for 3-4 minutes per side. Grill up some tomato, onion, and peppers while cooking the meat.
They will add a nice aroma.
Serve everything up on a platter and sprinkle with chopped parsley and Aleppo pepeo etc.
4.YOGURT MARINATED LAMB KEBAB
Add lamb, zucchini, tomatoes, and onion wedges; seal, and marinate in the refrigerator for 8 hours.

Remove lamb and vegetables from the bag and thread the lamb onto 2 (10-inch) skewers.

Thread zucchini, tomatoes, and onion wedges onto 2 (10-inch) skewers. Prepare grill or broiler.

Place kebabs on grill rack or broiler pan coated with cooking spray; cook 7 minutes on each side or until done. Serve your kebabs with couscous..!
5. CHICKEN KEBAB - NO SKEWER
Mix these together and put aside for one hour.

After one hour, shape the mix into kebabs by hand. Instead of grilling, use a fry pan for shallow frying.

Then,no skewer shallow fried kebabs are ready to serve…!
Try out these simple recipes with fresh premium halal meat from NDfresh and let us know what you think in the comments( We provide fresh chicken, beef, lamb and goat in pieces and minced form). Buy online and get delivered at your doorstep.