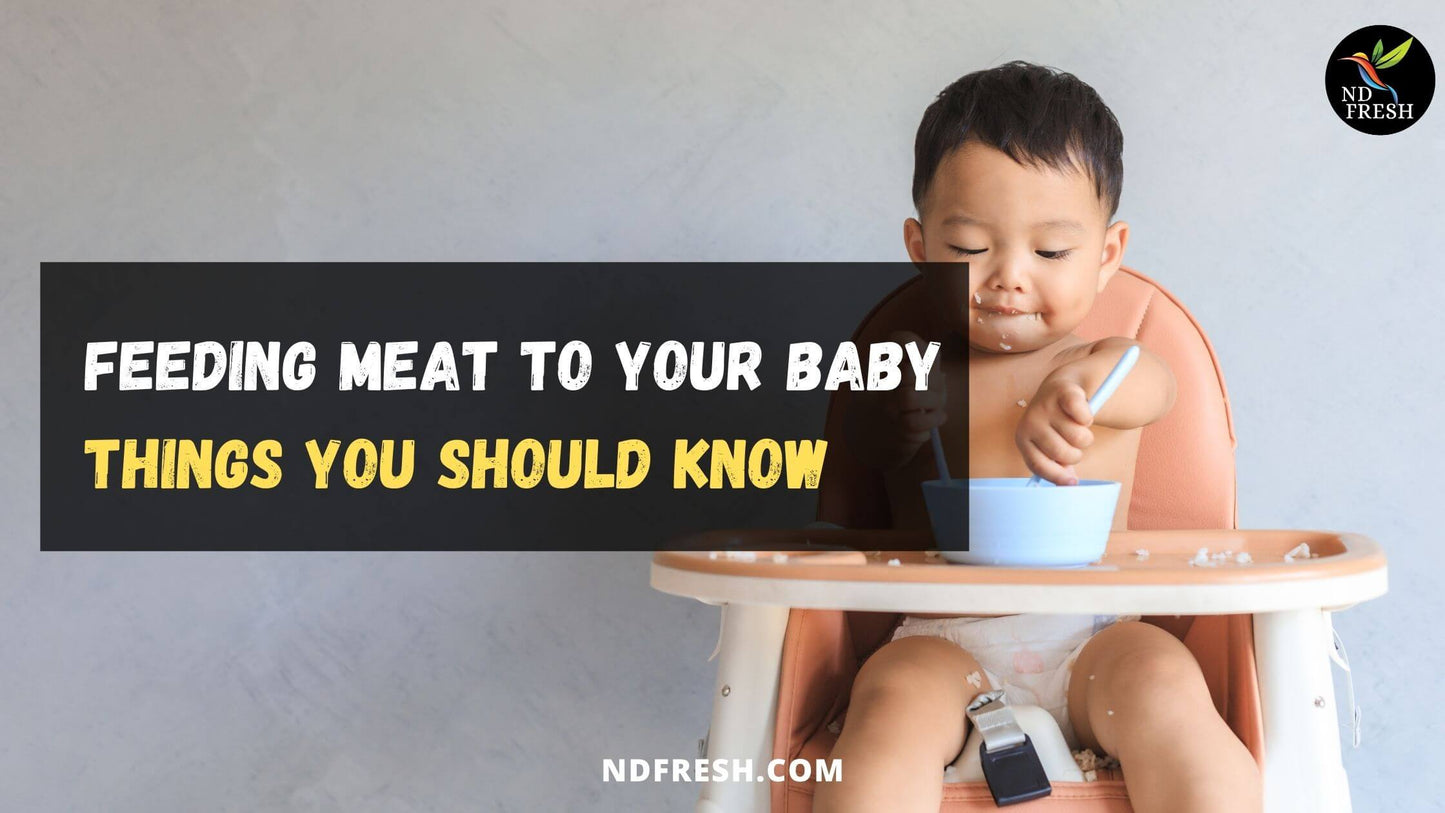 Dear parents, are you thinking of feeding your baby solids? If your little bud is getting ready to eat, fill them with nutrients. What about feeding meat? Meat is plentiful in iron and other nutritions. Many mothers are hesitant about this topic.Is feeding meat beneficial ? When to feed? how to feed?..take a look into it.
FOOD SCHEDULE OF A BABY
Here is a table showing the food schedule of a baby simply.
| | |
| --- | --- |
| Birth to 4 months | Only breast milk or formula milk |
| 4 months to 6 months | Iron supplements (if it necessary )along with the milk |
| 6 months to 12 months | Solid foods along with the milk |
Breast milk is the best food until your little one is ready for solids. So, give them breast milk as their first priority ..They need it. Go for the alternatives like formula milk if only when the mother is not able to feed her milk.
From birth to 24 months , continue feeding breast milk or formula milk even if you started solids. Mother's milk is rich in nutrients that can't be replaced by any other foods. It also gives immunity to your baby.
WHAT SOLIDS ARE GIVEN TO BABIES?
Traditionally we give veggies, cereal, fruit and meat. Because, all kinds of food are essential in a baby's healthier growth. In the first phase, soft or smashed food is the best option. So, one grain cereal, smashed veggies and soft meat recipes will go well. Tryout all types of foods and introduce a new one daily to your munch. Thus, you can find what food is interesting to your baby.
IS MEAT IMPORTANT IN YOUR BABY'S DIET?
Feeding your littles with meat is highly beneficial. As it contains high protein, it is an essential in your solid plan. For hemoglobin formation and oxygen transportation, Iron content is necessary. Red meat and poultry are high in iron. Meat also contains vitamin B12, Zinc and fats. Zinc plays a vital role in the immune system.
You can use Beef, Veal, Lamb,Mutton, Goat, Chicken, Turkey or Organ meats like liver,heart,kidney etc.. for your little one. Trying various meats can prevent boredom for your baby.
At ND fresh,we have premium quality, fresh and Halal certified meats trusted by 3000+ verified customers. Chicken, mutton, lamb, beef,fishes.. etc all are under one roof. You would get fresh meat as hygienically vacuum packed.
WHEN CAN START MEAT FOR YOUR BABY?
When your little one turns 6 months old and showing these you can go for solid foods
Good head control

Show interest in what you are eating

Try to reach out for foods

Weigh 13 or more pounds
It's most preferred to introduce meat in 6 months itself. If you wait for longer, your baby may be reluctant to eat meat because of its different texture compared to veggies and fruits.
HOW TO FEED YOUR BABY WITH MEAT?
You may grow your baby by spoon feeding or baby-led-weaning. Whatever method you use, make sure that the meat is tender and soft. Thus your little one can easily gum.
If you prefer spoon feeding, it is better to feed puréed meat. Make use of ground meat of chicken, beef, mutton etc. Little balls and finger long strips of meat are preferred later to spoon feeders. Don't use big pieces.
When you prefer a baby-led-weaning approach, exhibit meat that is cooked in different forms, like little balls and long strips, in front of them. It will be interesting to them. Reduce the size of logs according to your baby's convenience. If your cutie is not into the logs or balls, smash meat and load it into the spoon.
These are not preferable :
meat not cooked well

High mercury contained fish

Deli meats, hot dogs and bacon

Deep fried meat

Meat that reheated more than once.

Processed meat
Babies are more likely to chew or suck their fingers and whatever thing they get. That's why the finger shaped meat is recommended. Ball shaped meat may be a new playful shape for them. Combine the meat with some other ingredients that your baby has come to taste or he/she likes, that will make them interested in meat. So try to prepare meat in a way your little one falls for.
MEAT RECIPES FOR YOUR LITTLE BUD:
SHORT MEATBALLS
Combine ground chicken with mashed sweet potato, mashed beans or baby cereal. As your child grows and his /her likes change you can add the ingredients like grated cheese, eggs, fresh herbs and oats to your meatballs.
MINI MEATLOAF MUFFINS
Combine ground beef with mashed sweet potato or pumpkin purée, a beaten egg, plus enough whole wheat breadcrumbs to bind and bake in mini muffin tins.
SIMPLE CHILI
Cook ground beef with crushed tomatoes and finely diced onion, along with small sprinklings of seasonings like cumin or mild chili powder. Add vegetable broth to reach a thick consistency, and serve to your child.
COTTAGE PIE
Place the lamb meat, carrots and peas in a small oven-proof dish and pour in the broth.Top with the mashed potato, then place the dish in the oven (pre-heated to 400 deg F (200 deg C) until golden on top (about 20 mins).
MEAT CAN BE ALLERGIC TO SOME BABIES
You have to ensure that your baby is not allergic to meat before starting feeding. The babies who are allergic to milk, may also have the same symptoms over beef. So, consult a doctor before taking the spoon of meat.
Babies who are allergic to meat may show the symptoms like,
Swelling on skin or lip or tongue

Itching

Hives

Sneezing

Throat tightness

Wheezing

Nausea, vomiting, diarrhea

Trouble in breathing
Be cautious of your babies. Check if they have any difficulties while eating meat. Big pieces of meat and hard meat may be choking hazards, so place your eye on them and also make sure to give boneless and soft meat.
While having fun with your baby through eating meat, do not forget to check the quality of the meat. Your little one's health is important. Don't risk it..!So, source meat from the best place which gives you various meats as whole or in ground or in pieces in assured quality.
ND fresh is known for its premium quality Halal certified meats and spices. Check out ND fresh store, place your order and get it delivered at your doorstep..!
References:
https://www.healthline.com/health/baby/meat-baby#how-to-start
https://www.whattoexpect.com/first-year/baby-feeding/when-can-babies-eat-meat